Gamma Knife Radiosurgery: Is It Right for You?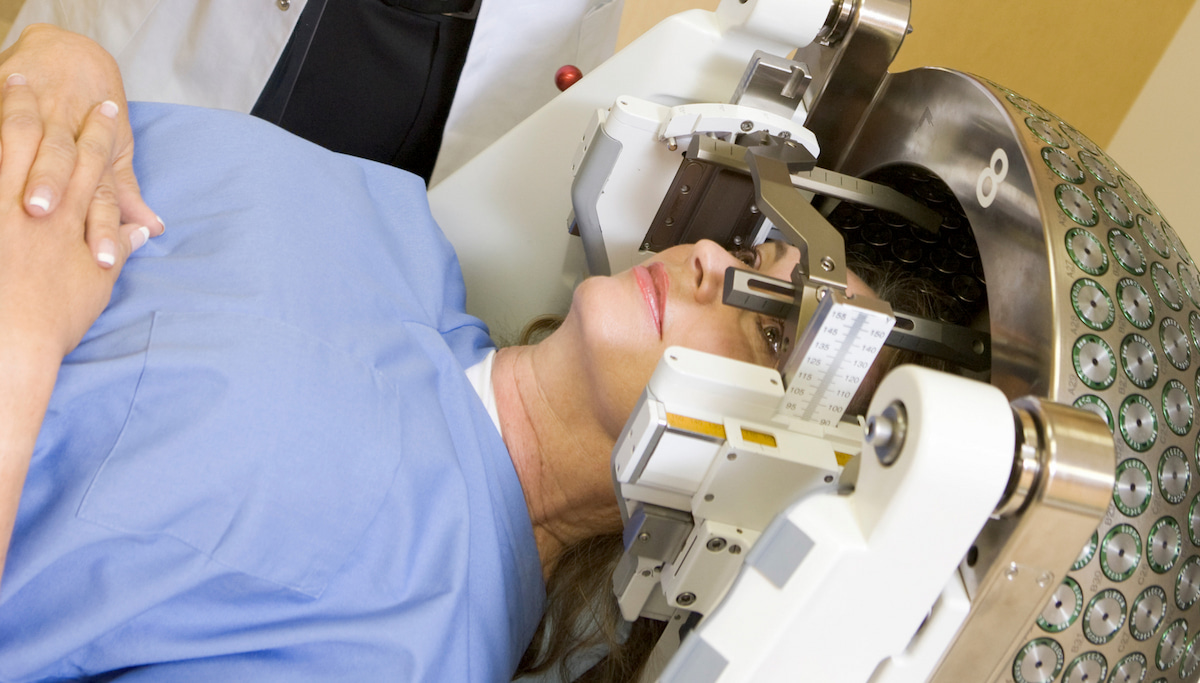 Every year, about 80,000 people are treated by neurosurgeons with a tool called the Leksell Gamma Knife®, which treats small and medium-sized brain tumors.
Understanding Gamma Knife treatment, including how and when it is used, can help you determine if you may be a good candidate for this highly effective, non-invasive procedure.
Contrary to its name, the Leksell Gamma Knife® doesn't involve a knife or blade, and the surgeon makes no incisions. The treatment is a type of radiation based on the concept of concentrating beams of radiation into a very small point. It was invented by a Swedish neurosurgeon, Professor Lars Leksell, in 1967, and is also called radiosurgery or stereotactic radiosurgery.
The Gamma Knife functions similarly to a magnifying glass that, when held up in the sun, concentrates the sun's rays into a tiny, powerful beam. The Knife is used to deliver focused radiation to small areas of the brain in a very exact way.
Gamma Knife treatment can be used for:
Small to medium-sized brain tumors that arise from the brain itself
Malignant (cancerous) brain tumors that have spread from other parts of the body such as the breast, lung or kidney
Small blood vessel abnormalities such as arterio-venous malformations.
Benefits of Gamma Knife Treatment
If the Gamma Knife is like a magnifying glass, conventional radiation treatment is like being at the beach — when you get a sunburn, you get it over your whole body. And when conventional radiation is used to treat brain lesions, it also irradiates (and damages) otherwise healthy brain tissue surrounding the lesion.
Because Gamma Knife treatment uses highly focused radiation to very exact points of the brain, it minimizes damage to the brain while maximizing the positive outcomes for the patient.
What Does Gamma Knife Treatment Involve?
Gamma Knife treatment is a painless, outpatient procedure that only needs to be performed once. On average, the procedure takes around two hours.
Patients remain awake throughout the procedure and are generally able to go home and return to normal activities a few hours after treatment. Within a few months, tumors may begin to shrink. In many cases, the tumor shrivels down and disappears.
Are You Eligible for Gamma Knife Treatment?
Many brain abnormalities that can be treated with conventional radiation may also be treatable with Gamma Knife radiation, if they are small enough.
For example, a woman with a brain tumor that came from her breast could be an excellent candidate for Gamma Knife treatment, provided the tumor is less than one inch in diameter. After using an MRI to pinpoint the tumor's location, a neurosurgeon trained to use the Gamma Knife would work with a radiation oncologist to devise a treatment plan.
Working together, the neurosurgeon and radiation oncologist would perform the Gamma Knife treatment to eventually eliminate the tumor.
If you or a loved one are dealing with a small brain tumor or other abnormality, consider reaching out to a Gamma Knife specialist who can help you determine if this noninvasive, highly effective treatment is an option for you.
If you or a loved one is seeking treatment for a brain tumor, are interested in Gamma Knife radiosurgery, or to schedule an appointment with Dr. Diaz or any of our MHSI experts, visit www.mhsi.com/appointments or call 248-784-3667.